"TYLER'S PICTURE ALBUM"
PLEASE MAXIMIZE YOUR SCREEN
PLEASE BE PATIENT, PICTURES MAY TAKE AWHILE TO LOAD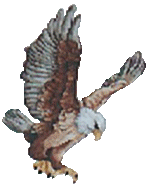 But those who hope in the Lord will renew their strength. They will soar on the wings like Eagles; they will run and not grow weary, they will walk and not be faint.
ISAIAH 40:31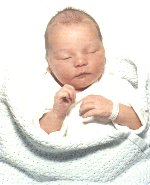 Tyler at 1 day old

Starting with picture to the left and then across Tyler at:
10 Weeks, 4 Months, 6 Months,12 Months and 18 Months






From Left to Right across Tyler at:
3 Years, 4 Years and 5 Years




From Left to Right across Tyler in:
Grade 1, Grade 2, Grade 3, Grade 4,and Grade 5





From Left to Right across Tyler in:
Grade 6, Grade 7 and Grade 8...



Tyler's 13th Birthday;
The last one....healthy




Tyler in the hospital after being diagnosed with ALL
Through it all my angel never lost his sense of humour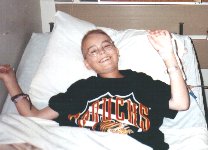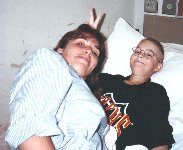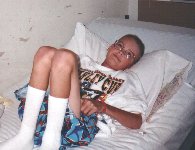 Robert as a baby
8 Months Old

Tyler and Robert
Tyler 3 yrs. & Robert 15 months,Tyler 5 & Robert 3 yrs, Tyler & Rob




Justin as a baby
9 Months Old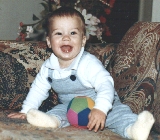 Tyler and Justin
Tyler 5 yrs. & Justin 1 yr, Tyler 7 yrs. & Justin 2 yrs, Tyler 9 yrs. & Justin 5 yrs.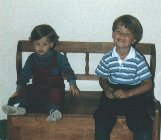 Brittany as a baby
8 Months Old

Tyler and Brittany
Tyler 10 yrs. & Brittany 5 Months, Tyler 11yrs. & Brittany 2 yrs, Tyler 13 yrs... & Brittany 4 1/2 yrs.




Tyler with Robert, Justin and Brittany....and me
These pictures I will cherish, the time we were "a whole family"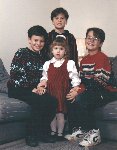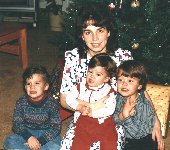 My Children, all together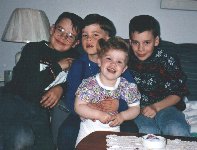 Please click on buttons below to go to Tyler's other pages.





PLEASE NOTE; ALL GRAPHICS ON THIS PAGE ARE COPYRIGHTED.
THEY COME FROM AN ORIGINAL PICTURE OF AN EAGLE I CROSS STITCHED.
A VERY SPECIAL THANKS TO SHARON Mamadayski@aol.com WHO WITH HER LOVING TOUCH MADE THEM PERFECT.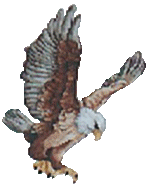 MIDI PLAYING:
RUNAWAY TRAIN
ONE OF TYLER'S FAVORITE SONGS